So a couple of positives today:
J and I went out yesterday and bought some fun fall decor for our house. Granted it's still a bajillion degrees outside but at least it looks like FALL! (No pictures, because I left my camera at work and my phone is overheating like no one's business!)
J's parents came down for the Jaguar game. His mom loved our place and it was nice to get to spend time with them.
FOOTBALL SEASON IS OFFICIALLY UNDER WAY! But this leads to the big negative of the day:
THE JAGUARS GOT BLOWN OUT 28-2 BY THE CHIEFS! ARGH!
Yea that would be how all of us felt... except ten times worse!
So yea there's that. Avery, I'm sure the Lawyer was pumped that his Chiefs won, but I am not. I had low expectations going into the game, but not so low that I didn't think they'd never make it past the 50 yard line!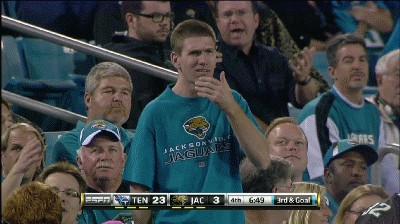 Yea, I know right? Oh well! It was still a blast to be at the game and my brother and I sit around much better people this season so there is that!
No where to go but up right????
Hope you all had a fabulous weekend!!!